Dartmoor & Devon Landscape Photography by Jen Bryant
Images of Devon & Dartmoor. Welcome to the interactive home of Jen Bryant's Westcountry photography. Images of Devon, Dartmoor, Exmoor, Ten Tors, Coastal Scenes, Beaches, Estuaries, Dawns, Sunsets, Trees, Villages, Towns, Landscapes and Rivers.
I WILL BE BACK IN TAVISTOCK MARKET ON FRIDAY 4TH AND SATURDAY 5TH DECEMBER. THEN FRIDAYS & SATURDAYS THEREAFTER. SEE YOU THERE.

CHRISTMAS 2020
NEW - PACK OF 5 DARTMOOR CHRISTMAS CARDS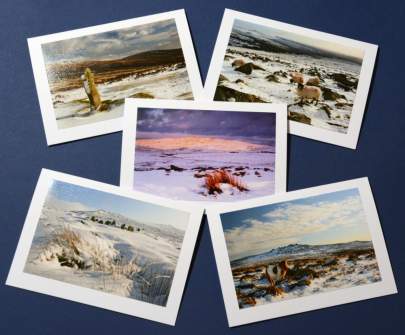 Pack of 5 Cards £11 (includes P&P
Wording inside 'Happy Christmas
Please see under 'Prints & Cards' then to 'Dartmoor & West Devon'. You will then find an extra sub-section for the Christmas Card Packs.