Dartmoor & Devon Landscape Photography by Jen Bryant
Images of Devon & Dartmoor. Welcome to the interactive home of Jen Bryant's Westcountry photography. Images of Devon, Dartmoor, Exmoor, Ten Tors, Coastal Scenes, Beaches, Estuaries, Dawns, Sunsets, Trees, Villages, Towns, Landscapes and Rivers.
I couldn't resist going out and trying to see the Comet Neowise during July 2020. Below is one of the shots that I managed to get. I am new to shooting the stars but I will certainly do it more, and hopefully learn as I go along. I will bring out a series of cards of 'Dartmoor at Night' when I have collected a selection.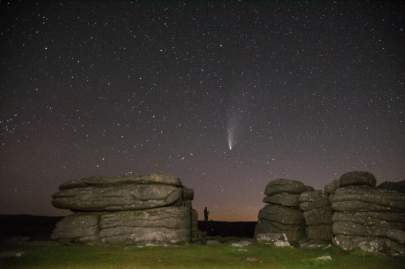 The Comet Neowise above Combestone Tor on South Dartmoor